Civil Engineering CE
Programme
Approved Intake
B.Tech (Civil Engineering)
30
Know More
M.Tech (Structural Engineering)
30
Know More
The program is Affiliated to JNTU.
One of the oldest and broadest engineering disciplines, Civil Engineering involves planning, designing, constructing, maintaining and supervising infrastructures which include facilities essential to modern life like highways, bridges and tunnels, schools, hospitals, airports and other buildings, sewage systems and water treatment facilities. Subsequently, the course also involves protecting the public and environmental health as well as improving existing infrastructure.

AICTE Approved
Degree Recognition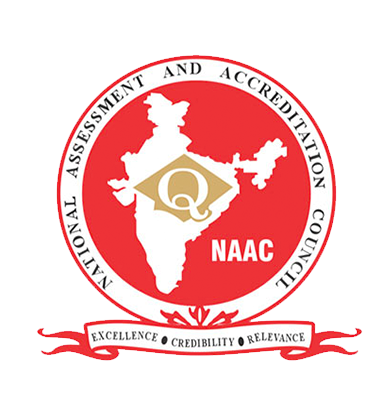 NAAC A++ Grade (III Cycle)
Autonomous Institution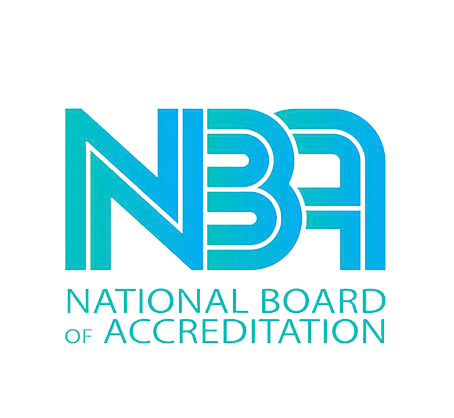 NBA Accreditation Tier 1
For Academic Years 2021-2022 to 2022-2023

NIRF Innovation All India Rank 2023
Ranked in 101 - 150 Band.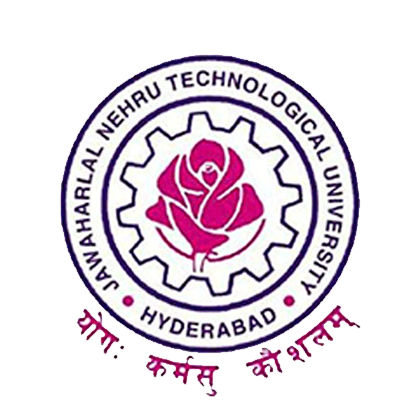 Affiliated to JNTU Hyderabad
Degree Recognition
Programme Overview
Key Highlights


Industry attachments: Seminars / Conferences / Workshops / Industry Visits / Guest Lectures


AICTE Approved CE Graduate Degree


NBA Accreditation Tier 1 For Academic Year 2021-2022 to 2022-2023


Lectures by Industry Experts & academia


200+ hours of live interaction with faculty


360-degree career support


Strong communication and team work


Student Support available with Mentor Programme


Our MREC Alumni Serve as Mentors to Contribute Sustaining Career Resources


Understanding of contemporary issues in construction, environment and urban development


Business Simulations through MNCs and Industries Tie Ups


Inhouse Real Time Mini and Major Projects


Knowledge of current planning and construction laws and regulations


One-on-one interaction with industry mentors


Campus Placement drives with top MNCs
Top Subjects you will learn
Engineering Geology, Fluid Mechanics, Hydraulics & Hydraulic Machinery, Building Materials Construction & Planning
Who Is This Programme For?
Those who have qualified the Intermediate(10 + 2) with Maths,Physics and Chemistry as their main stream or completed Diploma Program successfully are also eligible; The applicants must have secured a minimum of 50% in their 12th or Diploma Program
Job Opportunity
Building control surveyor, CAD technician, Consulting civil engineer, Contracting civil engineer, Design engineer, Estimator, Nuclear engineer, Site engineer, Structural engineer, Construction manager, Urban planning engineer
Minimum Eligibility
The minimum qualification for admission to the B.Tech course is based on the merit in AIEEE / JEE / TSEAMCET after Intermediate or State Level Common entrance test ECET (Engineering Common Entrance Test) conducted by Telangana State Government, for admission into 2nd year (Lateral Entry) for Diploma passed students from an approved institution with at least 50% marks in appropriate branch of Engineering/Technology
Syllabus
Best-in-class content by leading faculty and industry leaders in the form of videos, cases and projects, assignments and live sessions
Tools Integral To The Programme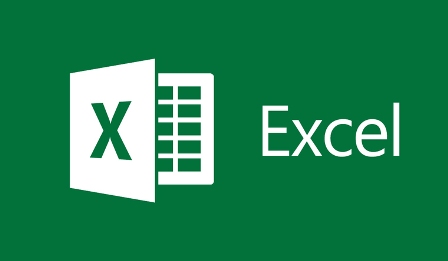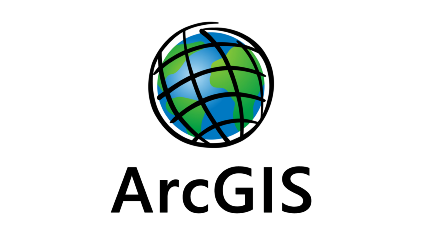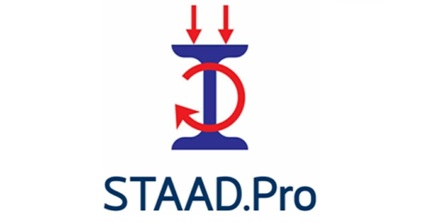 Build a rewarding career
1200+ Industry Hiring Partners | 50% Average Salary Hike
Department Wise Placements
---
Department Wise Placement Details

Department
2023-2024
2022-2023
2021-2022
2020-2021
2019-2020
2018-2019
CE
316
212
100
81
110
| Department | 2017-2018 | 2016-2017 | 2015-2016 | 2014-2015 |
| --- | --- | --- | --- | --- |
| CE | 104 | 76 | 53 | 45 |
SK.SHAHI MUNIVARSHA
BYJUS
10 LPA
Roll No : 18J41A01B1
BOBBALA SRINIVAS REDDY
COGNIZANT
6.7 LPA
Roll No : 18J41A0108
Y.Jithendhar
COGNIZANT
6.7 LPA
Roll No : 18J41A01J0
Alanthwar Shruthi
ZELFSTUDIE PVT LTD
6 LPA
Roll No : 18J41A0102
MREC Placements
A thriving community of creative and accomplished people from around the world
350+
Total no. of Recruiters
30+
Fortune 500 Companies
Our Recruiters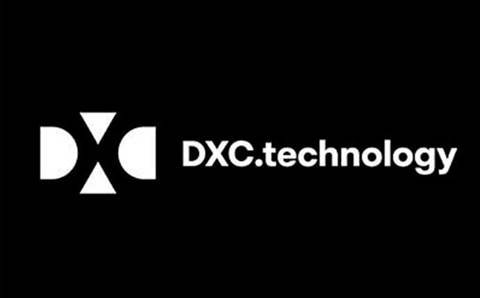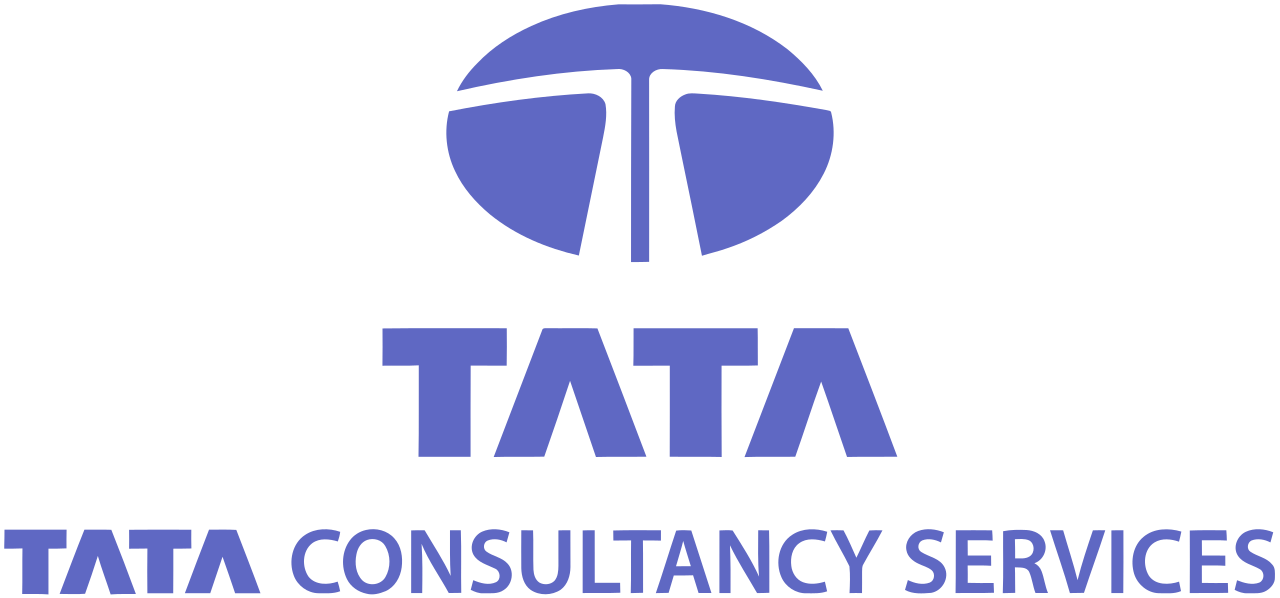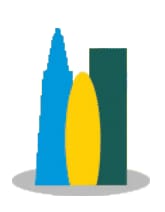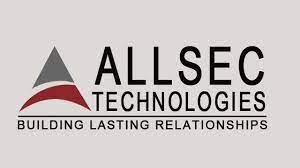 Upcoming Placement Drives
Apr 10
Bharathi Airtel

This is bringing to your information that M/s. Bharathi Airtel Campus drive is scheduled on 10/04/2023, Monday. Hence all the Final year eligible students are informed to attend the drive without fail.

Below are the drive details:

Mode of Drive: Virtual

Role: Business to Corporate Client Relations

Package: 4.2 LPA

Date & Time: 10.04.2023, Monday @11.30 am

Eligible Branches: CIVIL, MECH, EEE & MBA (Only Female Students)

75&ABOVE
Apr 05
APARNA CONSTRUCTION PVT LTD

This is bringing to your information that Ms. APARNA CONSTRUCTION PVT LTD Campus Drive has been scheduled on 05/04/2023, WEDNESDAY. Hence all the Final year B. Tech are informed to attend the Drive

Below are the Drive details:

Mode of Drive: PHYSICAL

Package: B. Tech: 2.4LPA

Time: 10.00 am

Eligible Branches: CIVIL

70 & ABOVE
Mar 31
FACE PREP

Mode of Drive: Virtual

Package: B. Tech: 3.06, M. Tech: 4 LPA

Date: 31.03.2023, Friday

Time: 10.00 am

Eligible Branches: All B. Tech & M. Tech

60% no backlogs
Mar 28
EE engineering services

Mode of Drive: Physical

Package: 3 LPA

Role: Graduate Engineer

Eligible Branches: CIVIL

65% no backlogs
World Class Amenities
Campus Facilties
Gymnasium
Activities Center
24*7 Wi-Fi
Enabled Campus
Library
Learning Resource Centre
Auditoriums/ Seminar
Rooms
ACADEMIC FACILITIES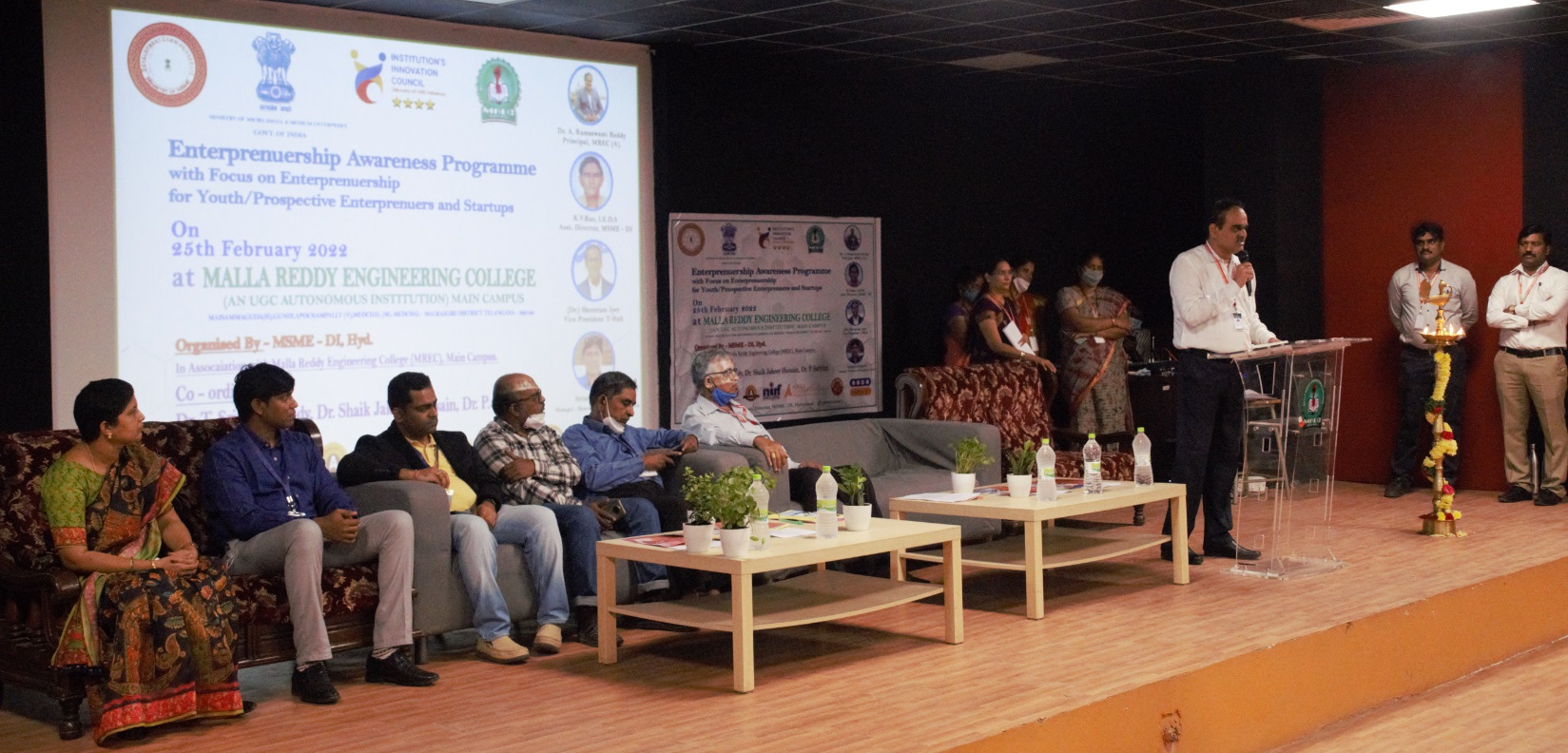 Auditoriums & Seminar Rooms
MREC has Auditoriums and Seminar Rooms equipped with the latest audio visual facilities for guest lectures, seminars, presentations, and other academic activities. Besides, every department has a Conference/Board room for meetings, faculty presentations, and discussions.
The auditorium is spacious enough to accommodate very large gatherings on special occasions. It also provides the right ambiance and environment for presentations and gatherings and to conduct various workshops, conferences and other academic programmes like seminars, workshops, symposiums, Guest Lectures etc.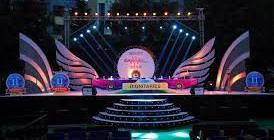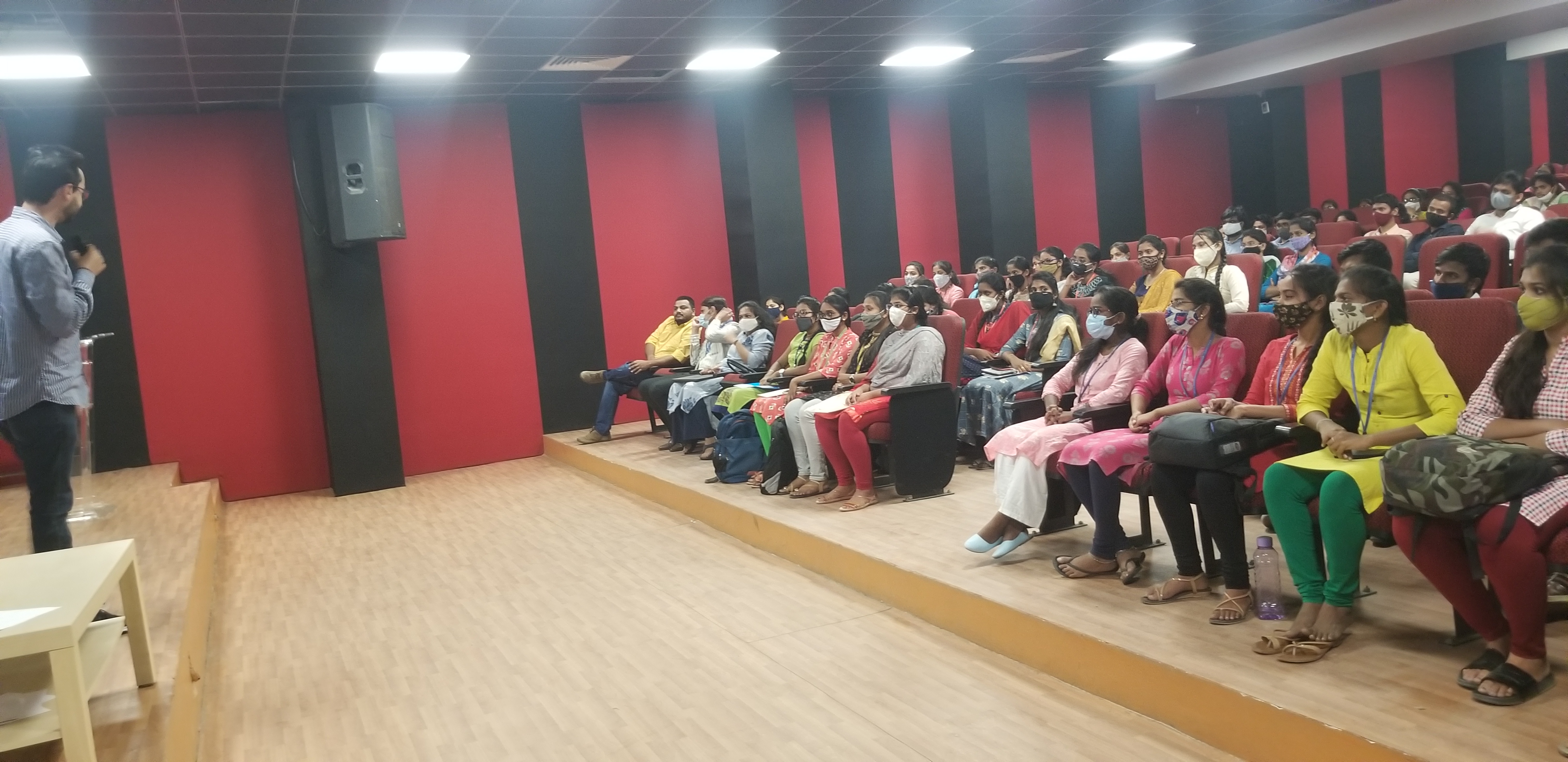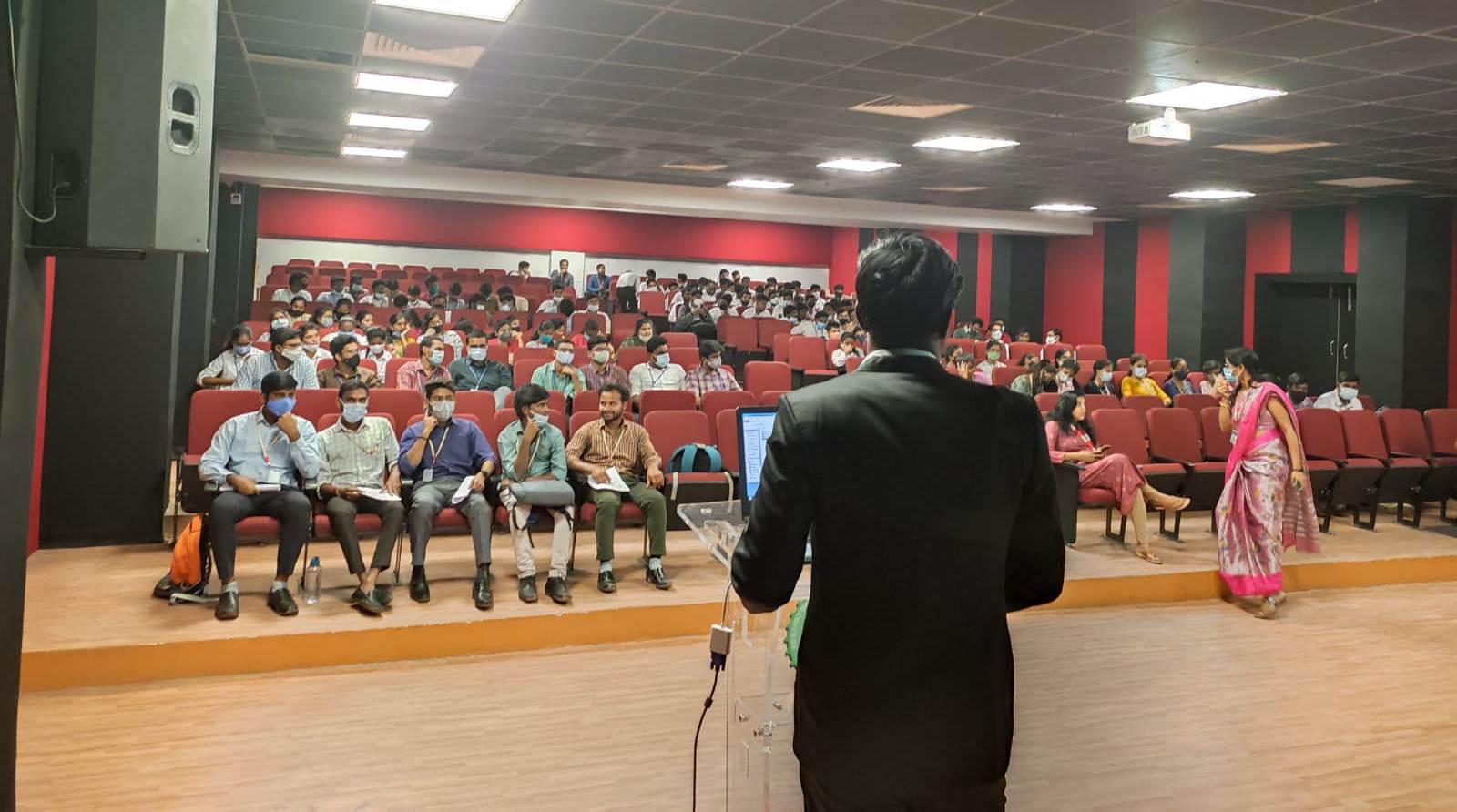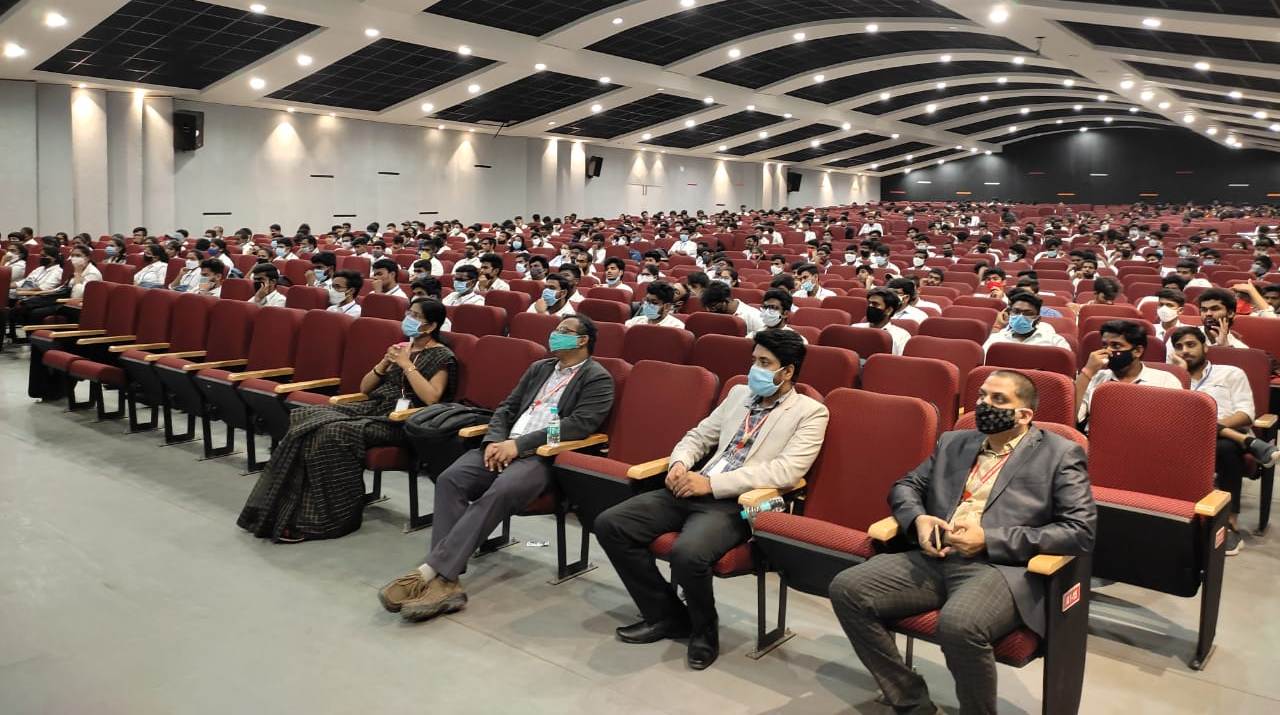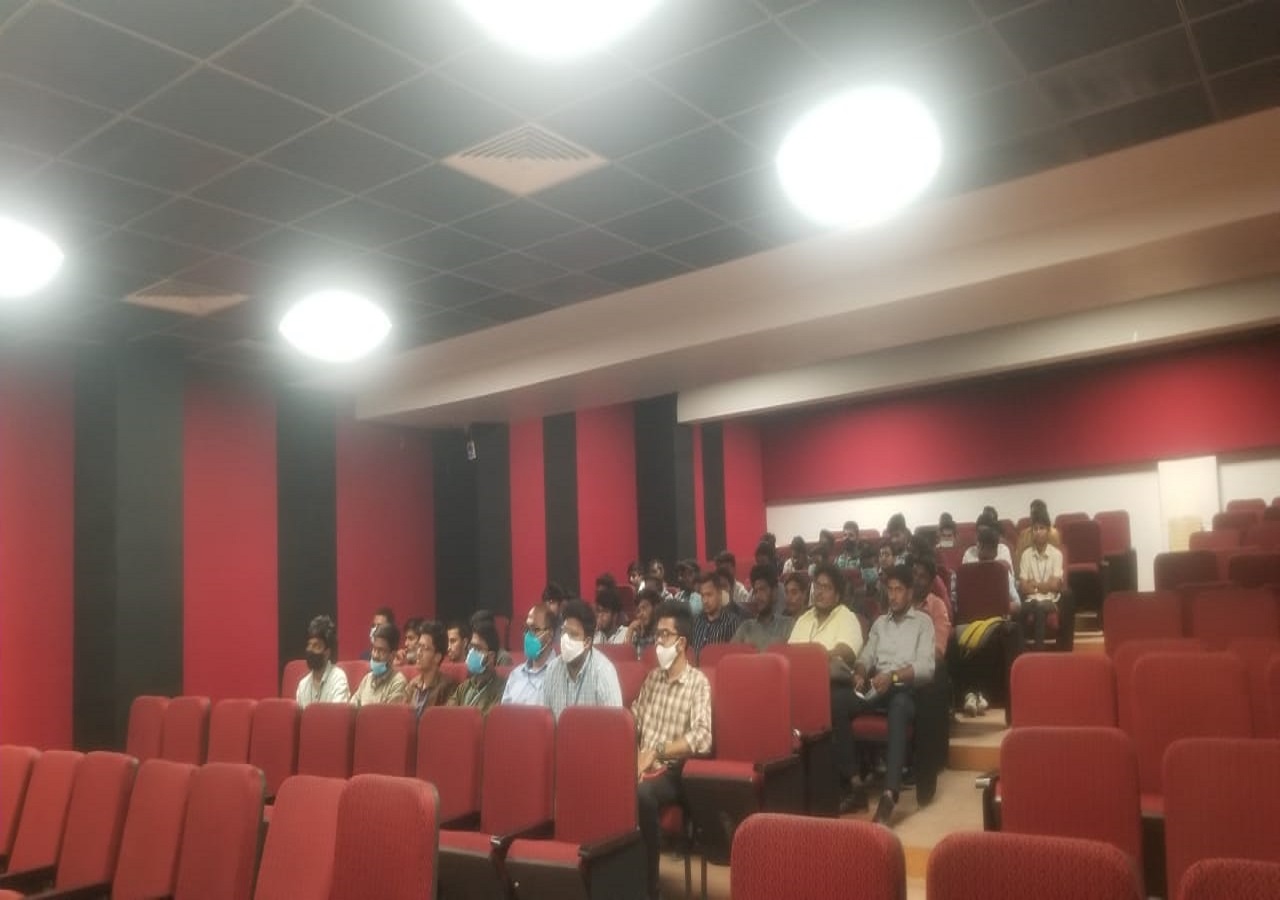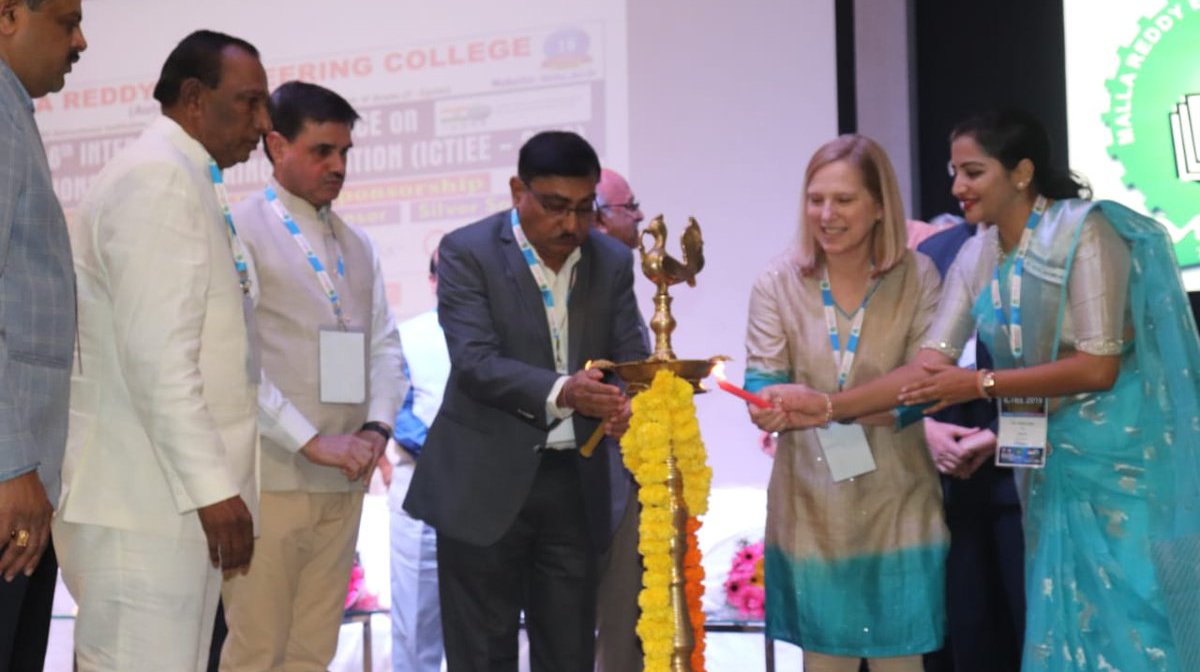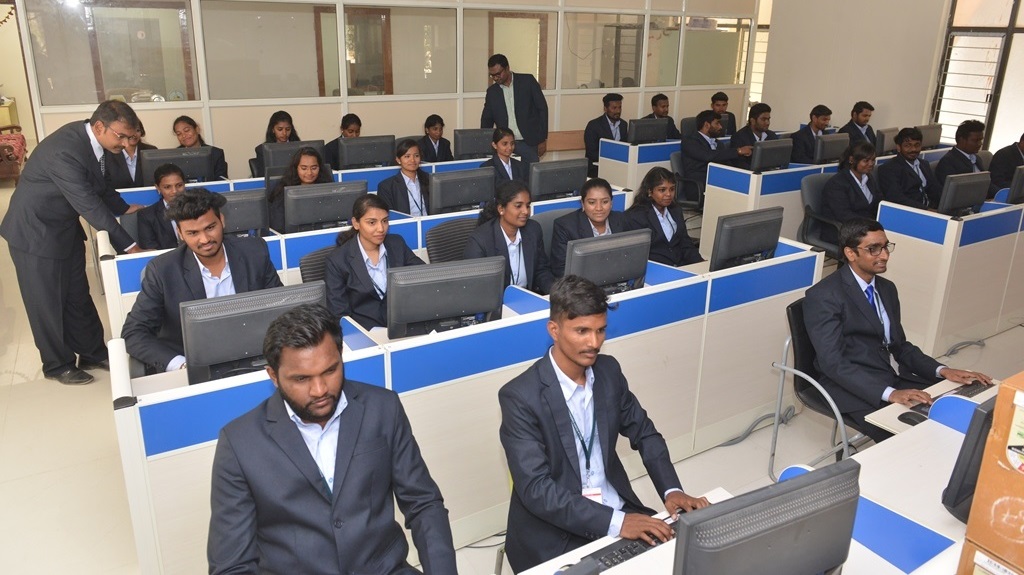 Computing Facilities
Recognizing the key role that IT plays in teaching as well as research, the MREC is committed to providing computing facilities of the highest standards. A high-speed optical fibre network of 1Gbps through two ISPs with wireless redundancy allows all students to access a range of services across our entire campus including student hostels with more than 200 access points.
The practical knowledge, which is an important part of a technical education, can be achieved by well-equipped Computer Laboratory. The Computer Laboratory is a basic component of the Institute's infrastructure, providing a wide range of support to the students and faculties involved in research and other academic activities. The Laboratories provides the hands-on need of today's industry requirements and what they learn in the classrooms.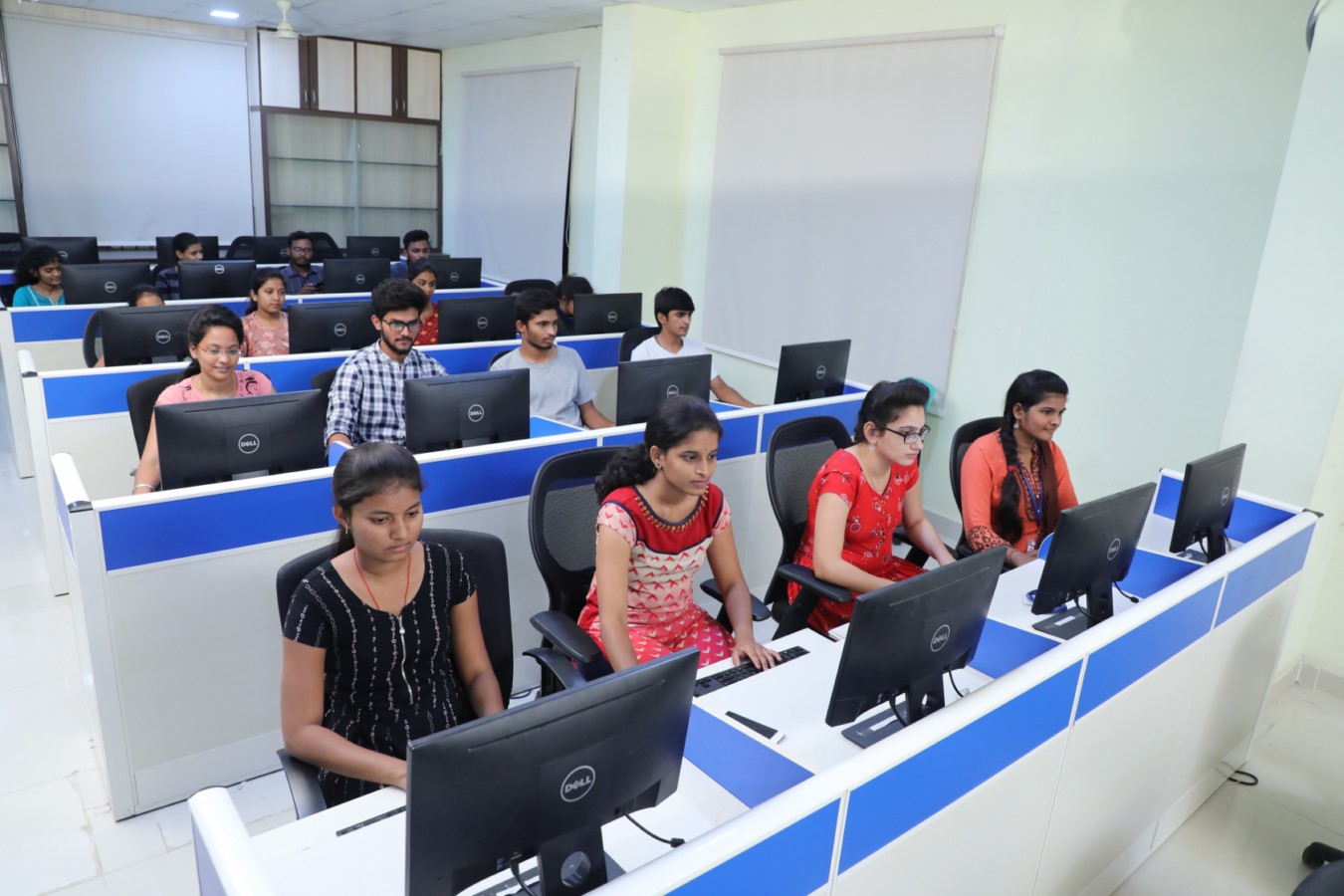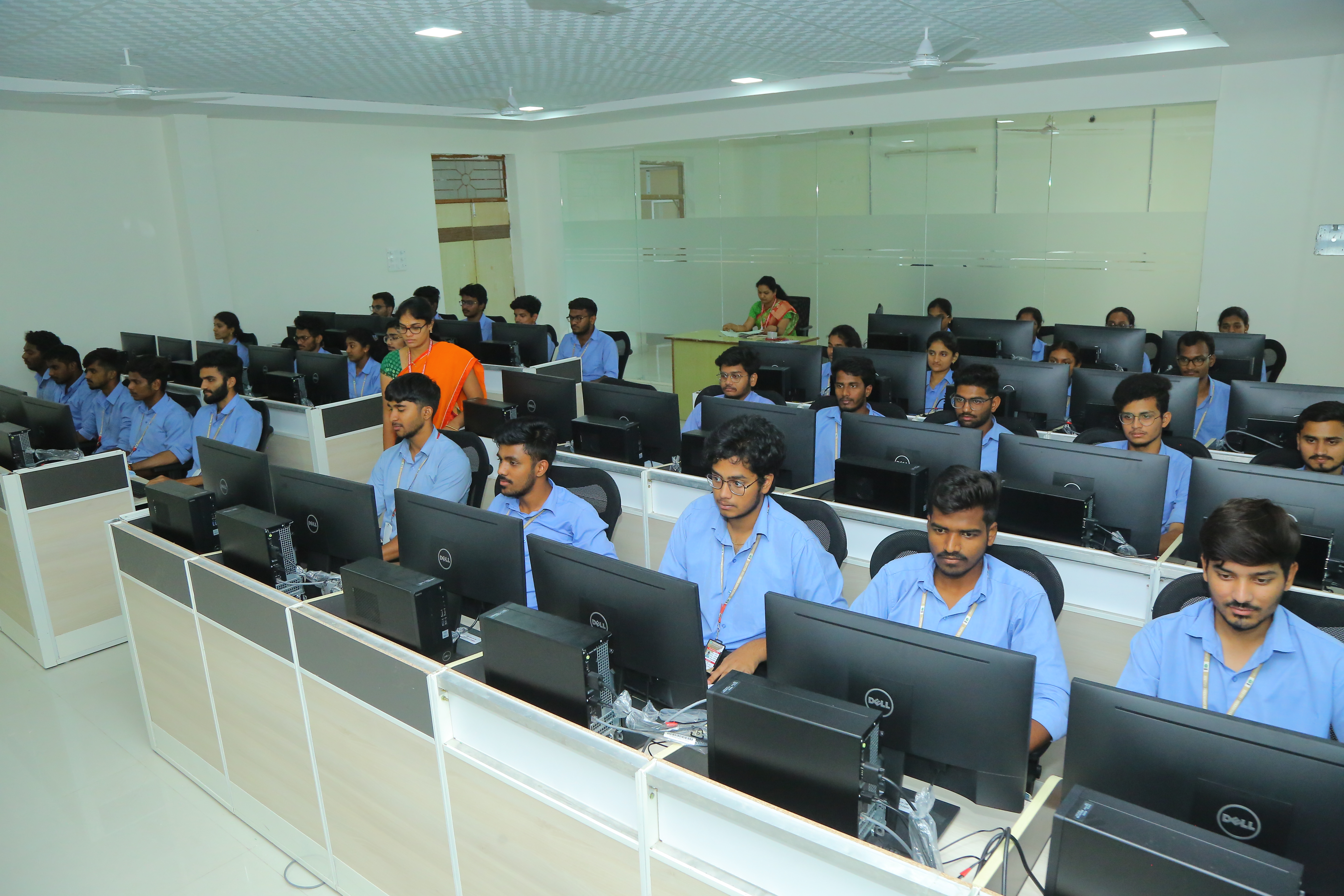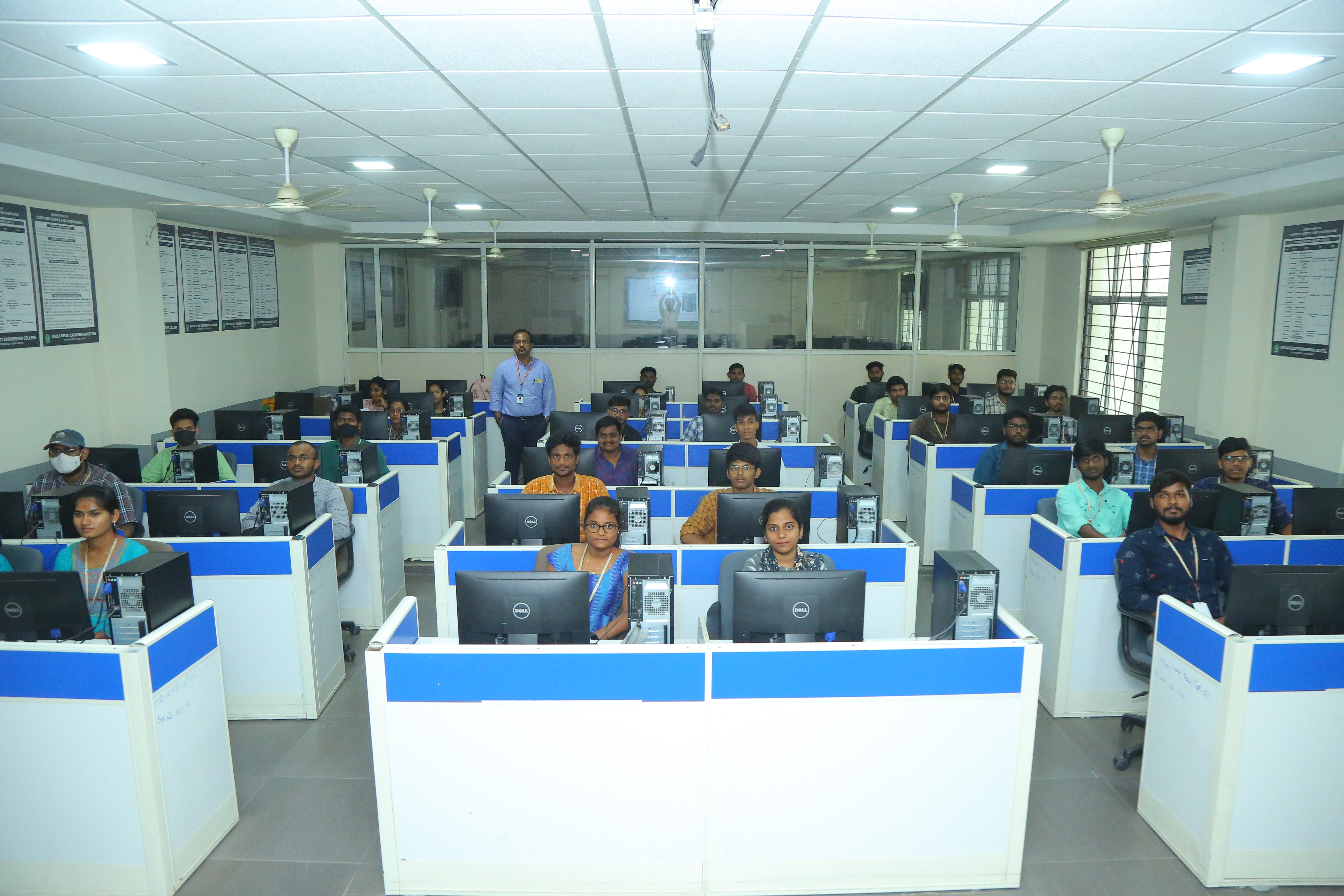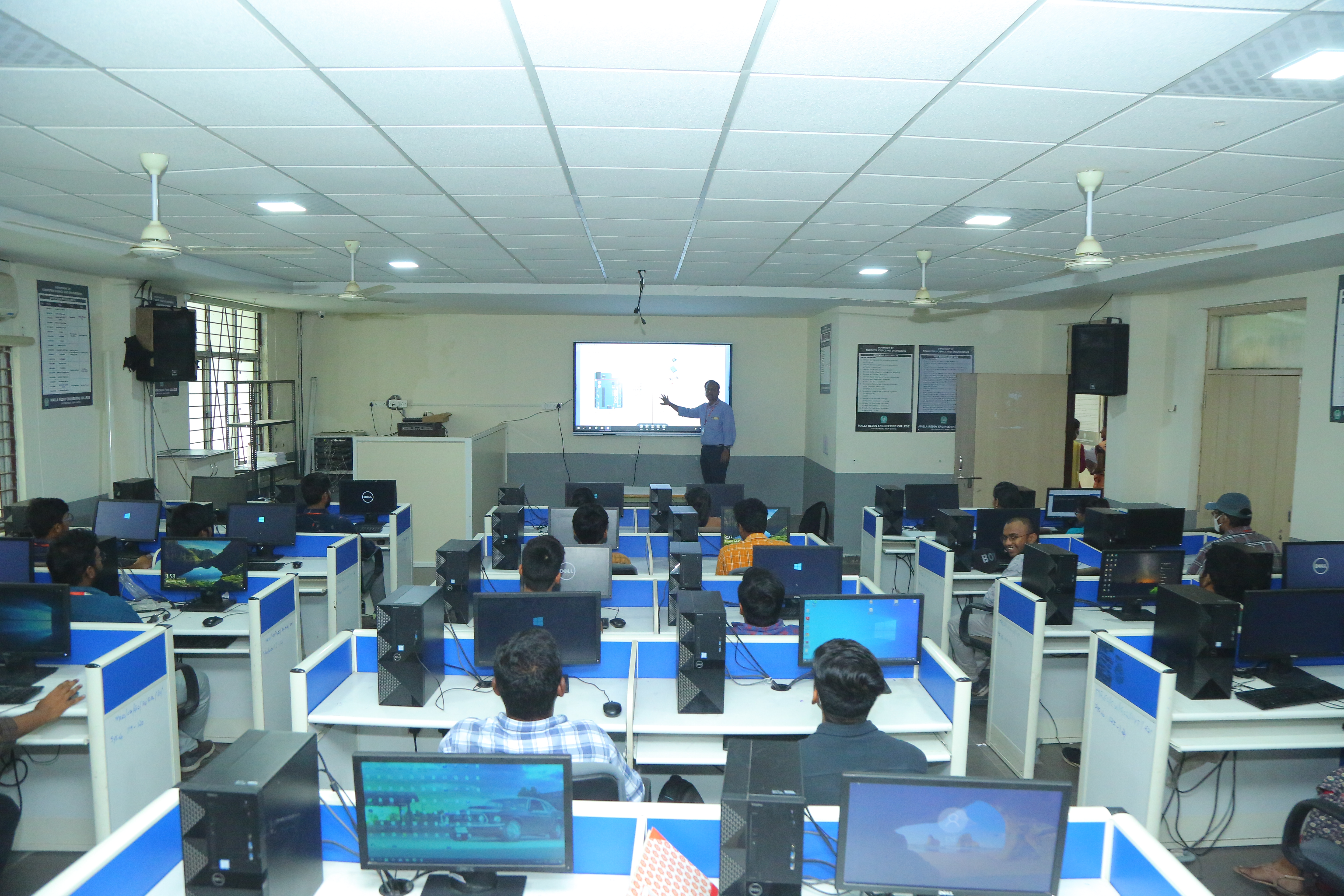 Laboratories
MREC has excellent laboratory facilities for carrying out teaching, research and consultancy activities in various disciplines of engineering , medical, dental sciences and mass communication. MREC has state of the art labs that allow the students to experiment and bring to practice what they have learnt in theory.
The laboratories are useful for students to implement the theory in practical aspects and helps student to apply their knowledge of theory for various courses of their course outcomes. The College has ensured all necessary steps to complying with the safety standards prescribed by the Statutory Authorities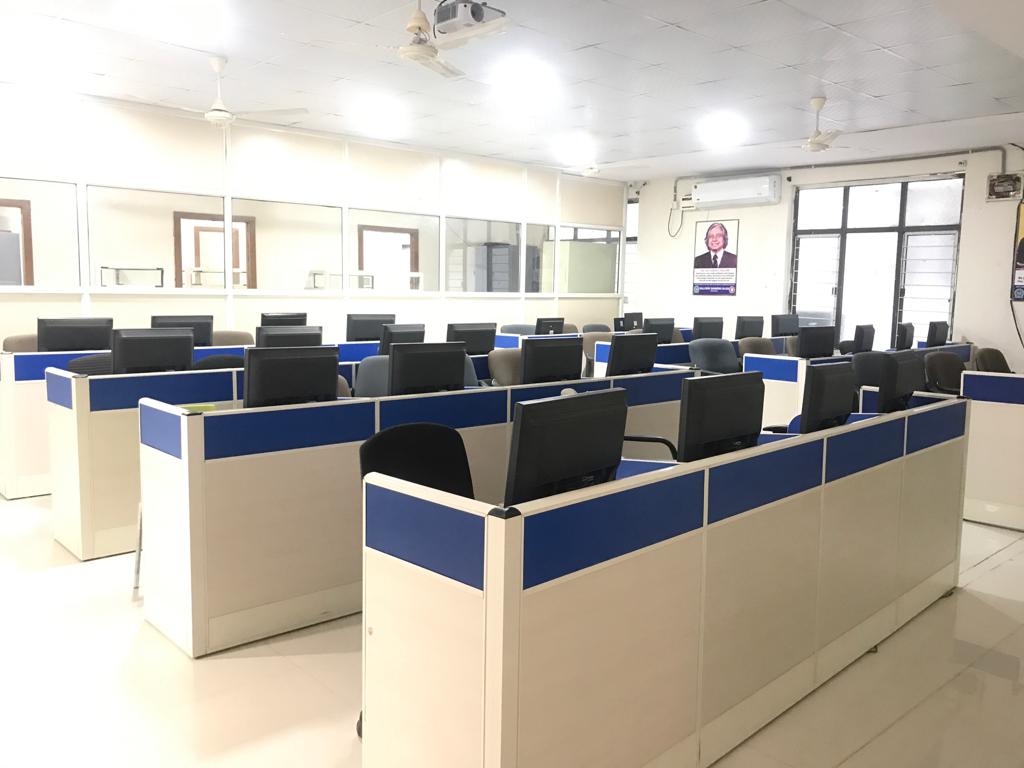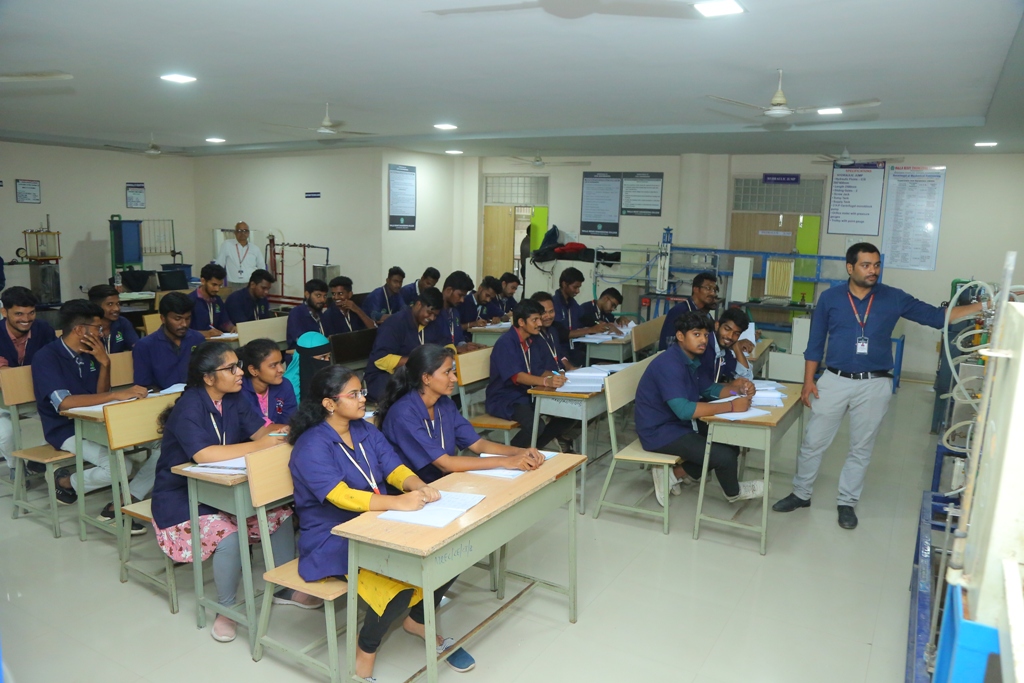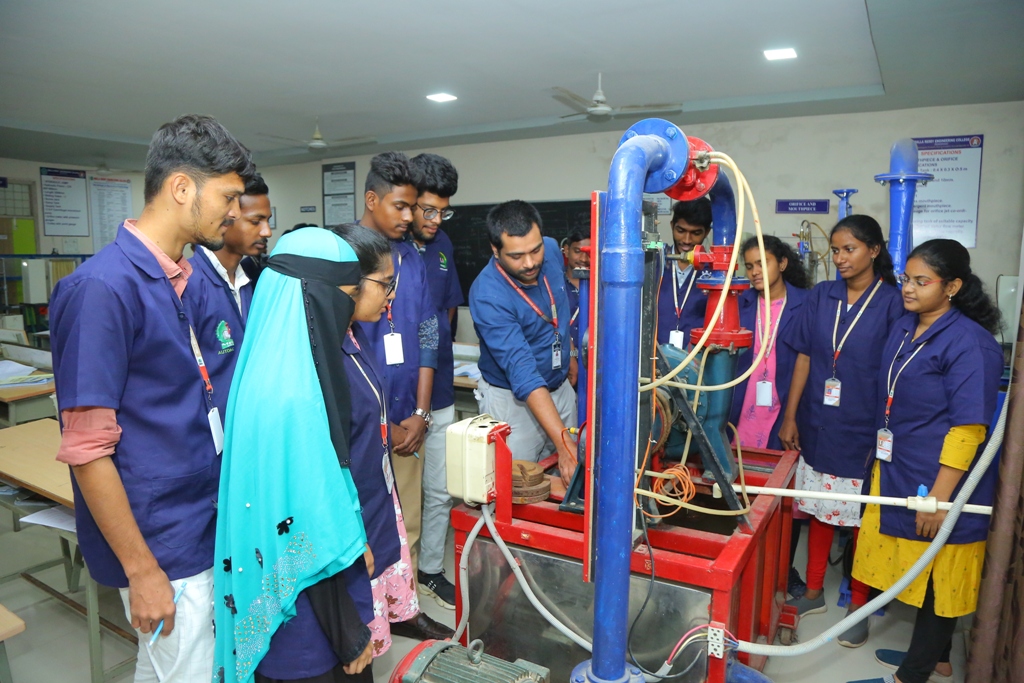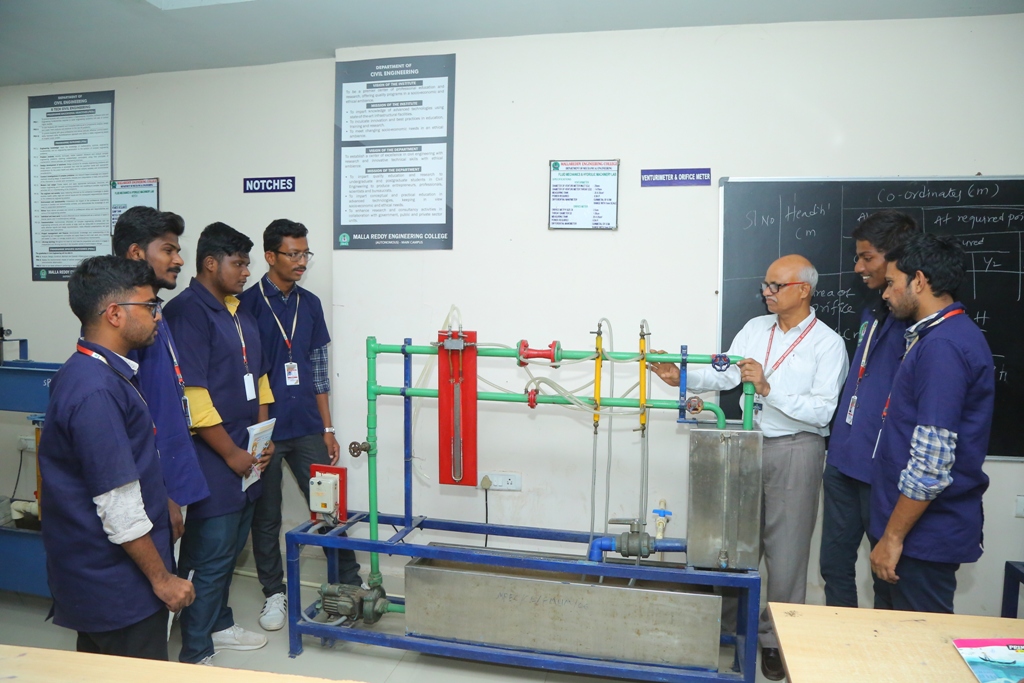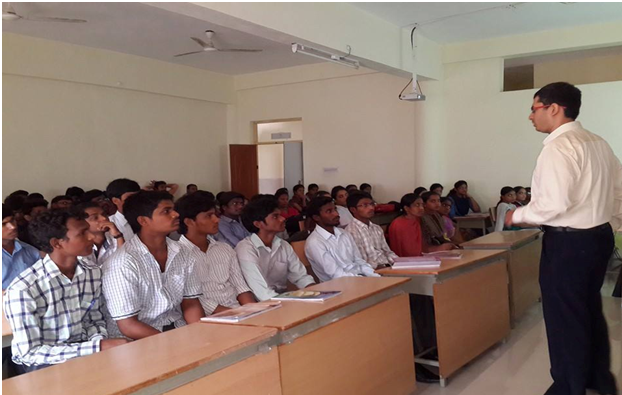 Workshops
The Teaching-Learning pedagogy used in the classrooms is IT enabled, and all classrooms are fitted with LCD projectors and sound systems . The lecture halls can accommodate up to 200 students while the tutorial classes are designed for strength of 30-40 students.
Workshop refers to the event where we can learn about the New Inventions and its core principles. Technology allows us to extend our ideas into the physical world using tools. The goal of this is to improve the quality of life for ourselves.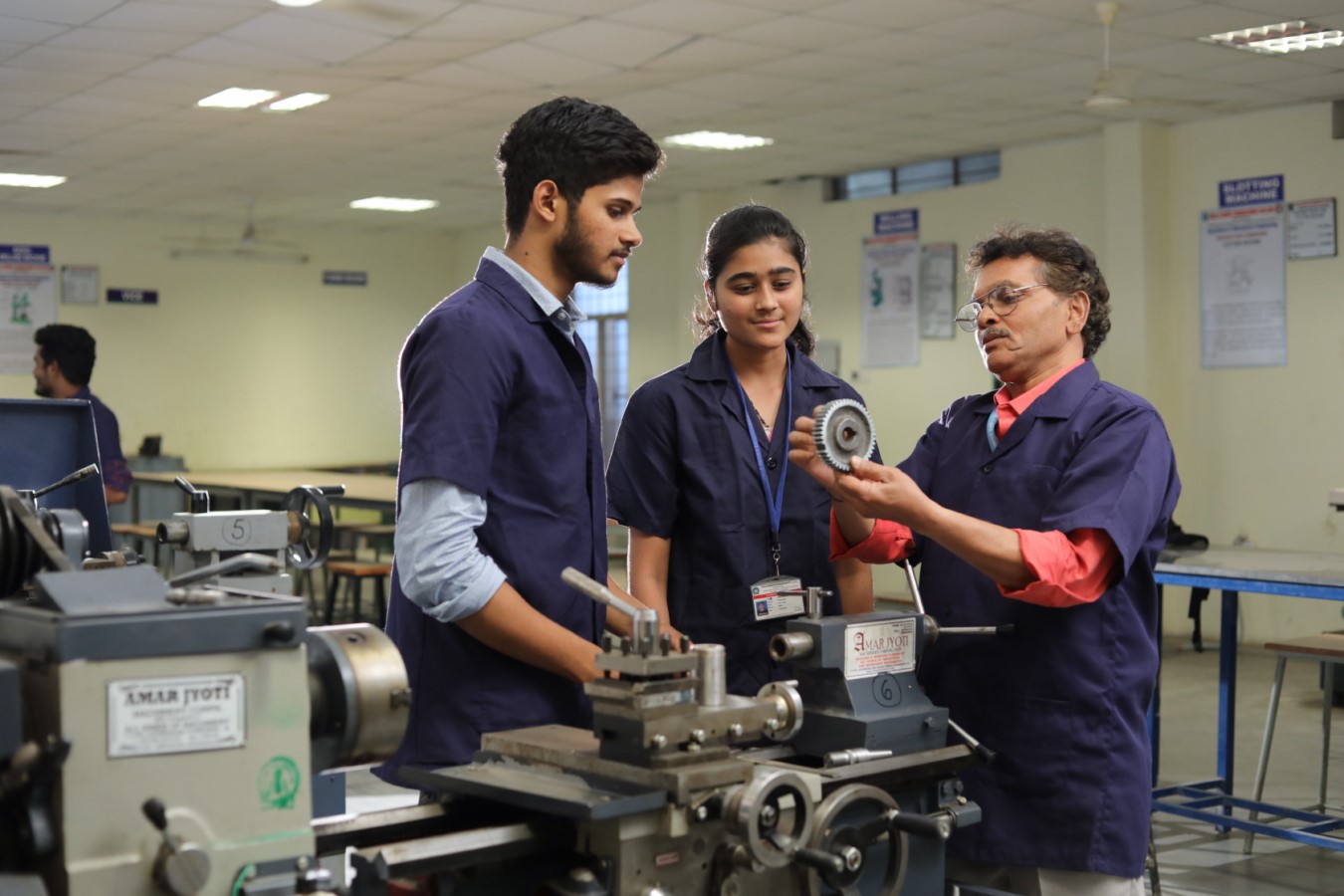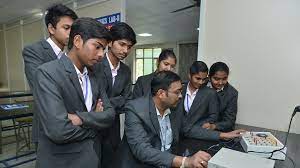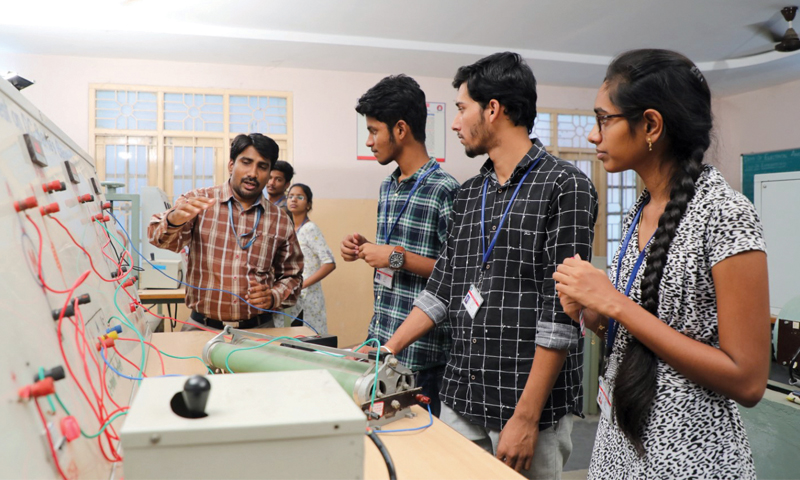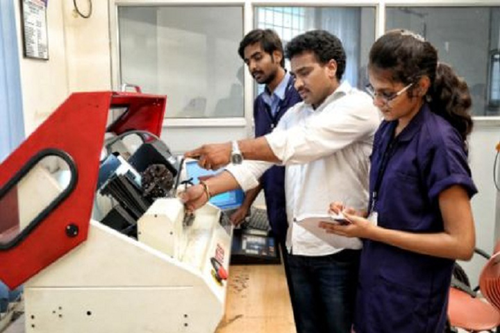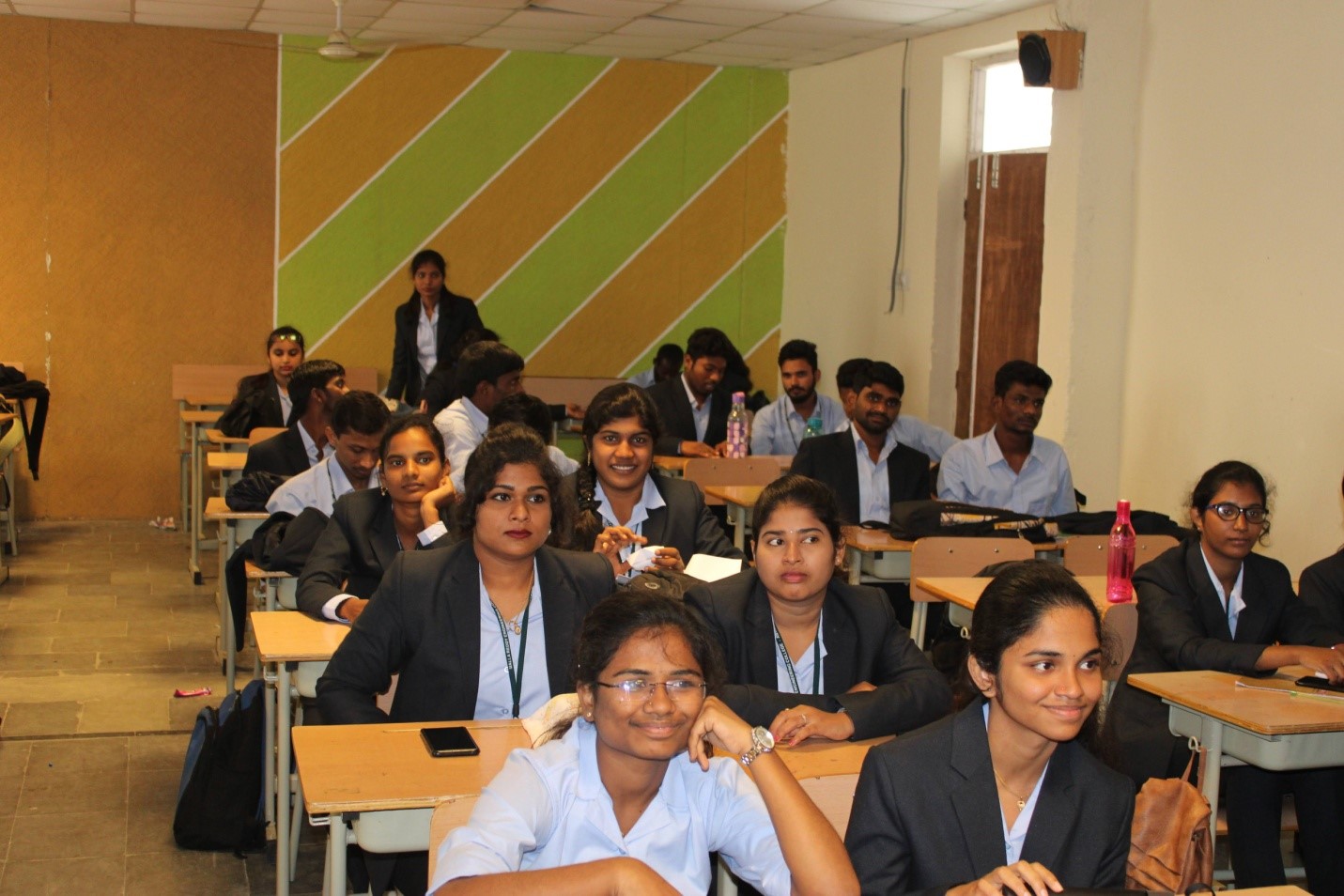 Classrooms
The Teaching-Learning pedagogy used in the classrooms is IT enabled, and all classrooms are fitted with LCD projectors and sound systems. The lecture halls can accommodate up to 200 students while the tutorial classes are designed for strength of 30-40 students.
Classrooms are spacious, well- ventilated with natural light and adequate electrical facilities. Well-designed furniture, teaching aids like LCD, etc. are used in the teaching-learning process. Our campus ensures a uniform and balanced distribution of space and resources to all categories and also to provide and maintain the necessary amenities to staff and students. The infrastructure required for each department is designed and placed in close proximity to ensure efficient teaching-learning process.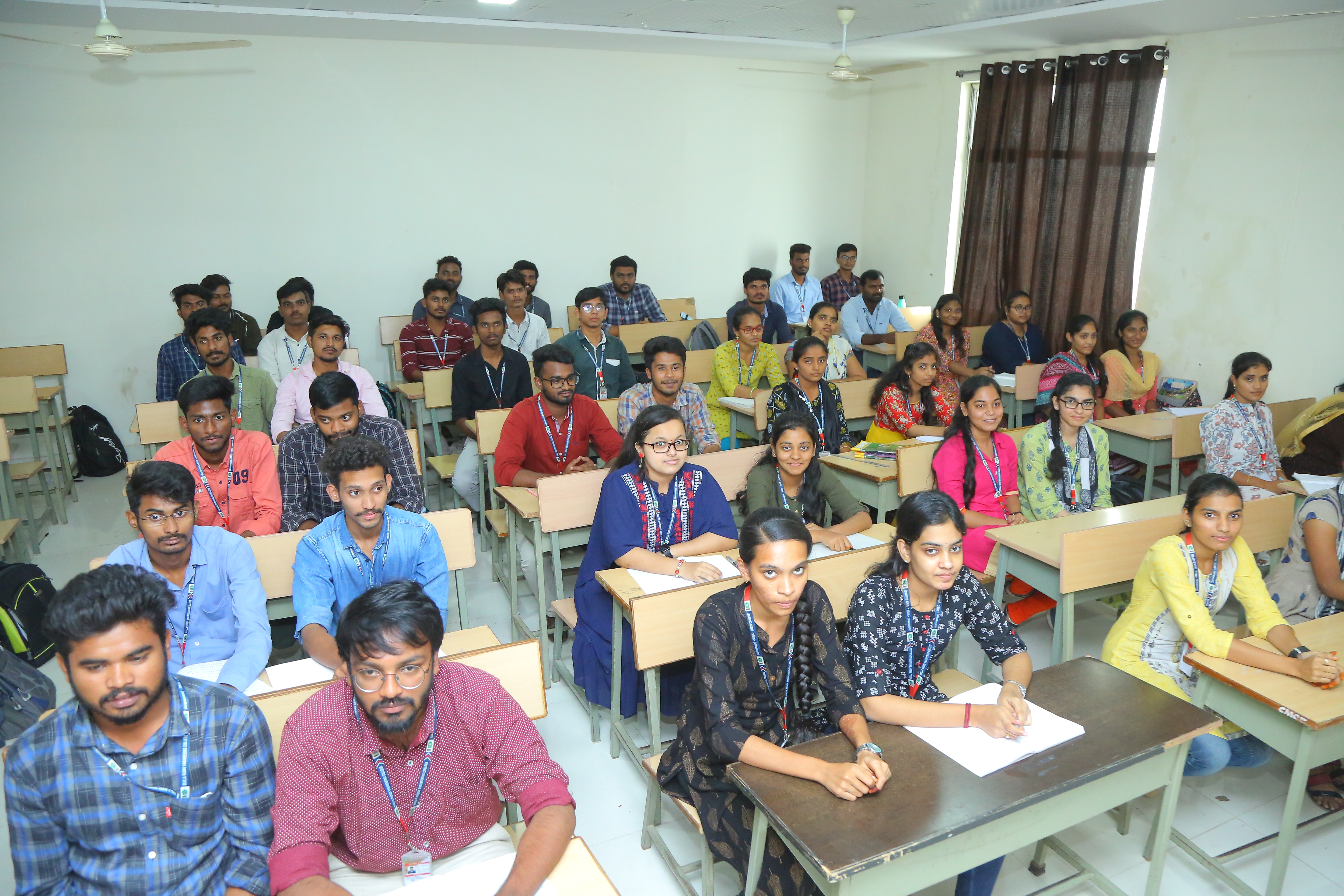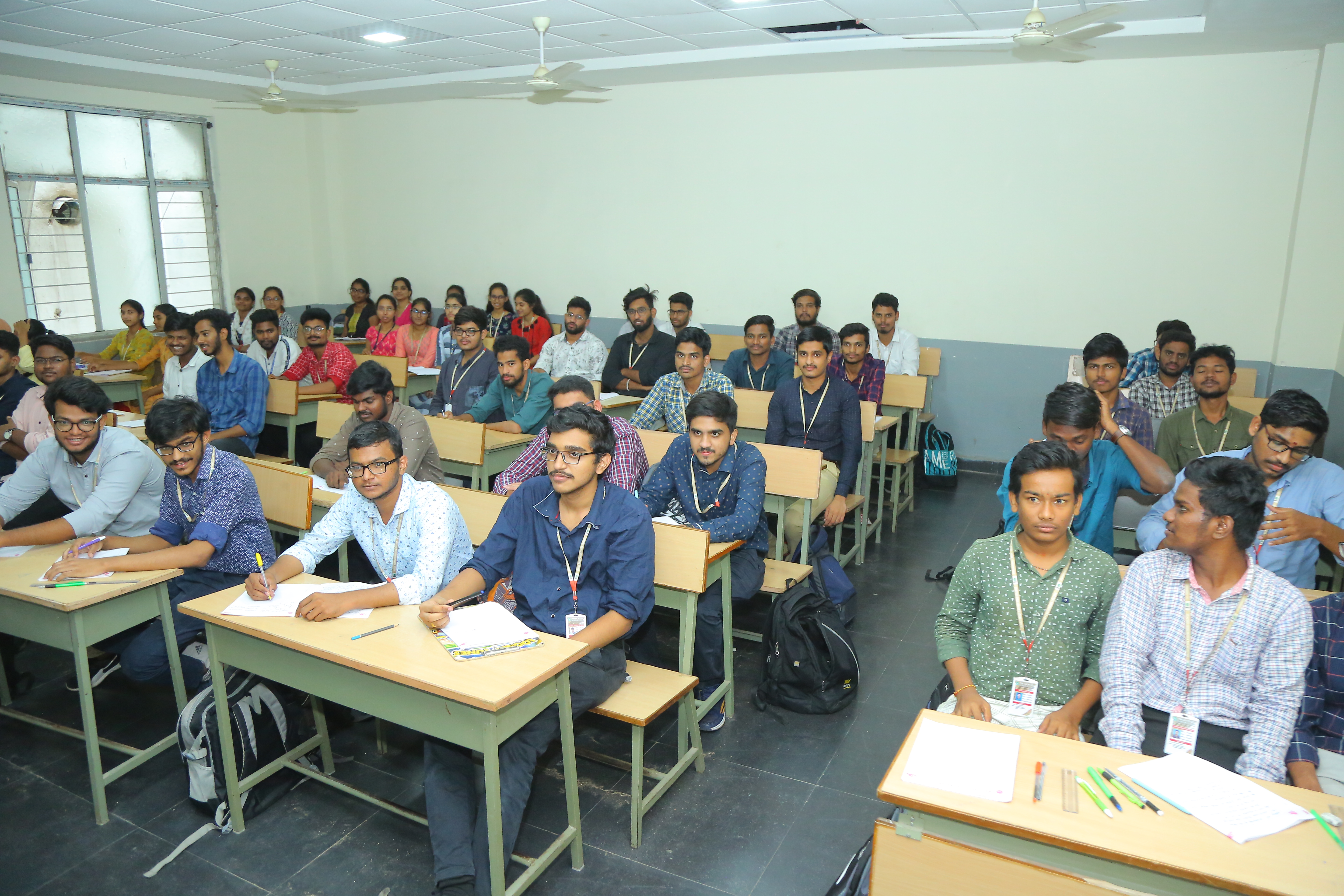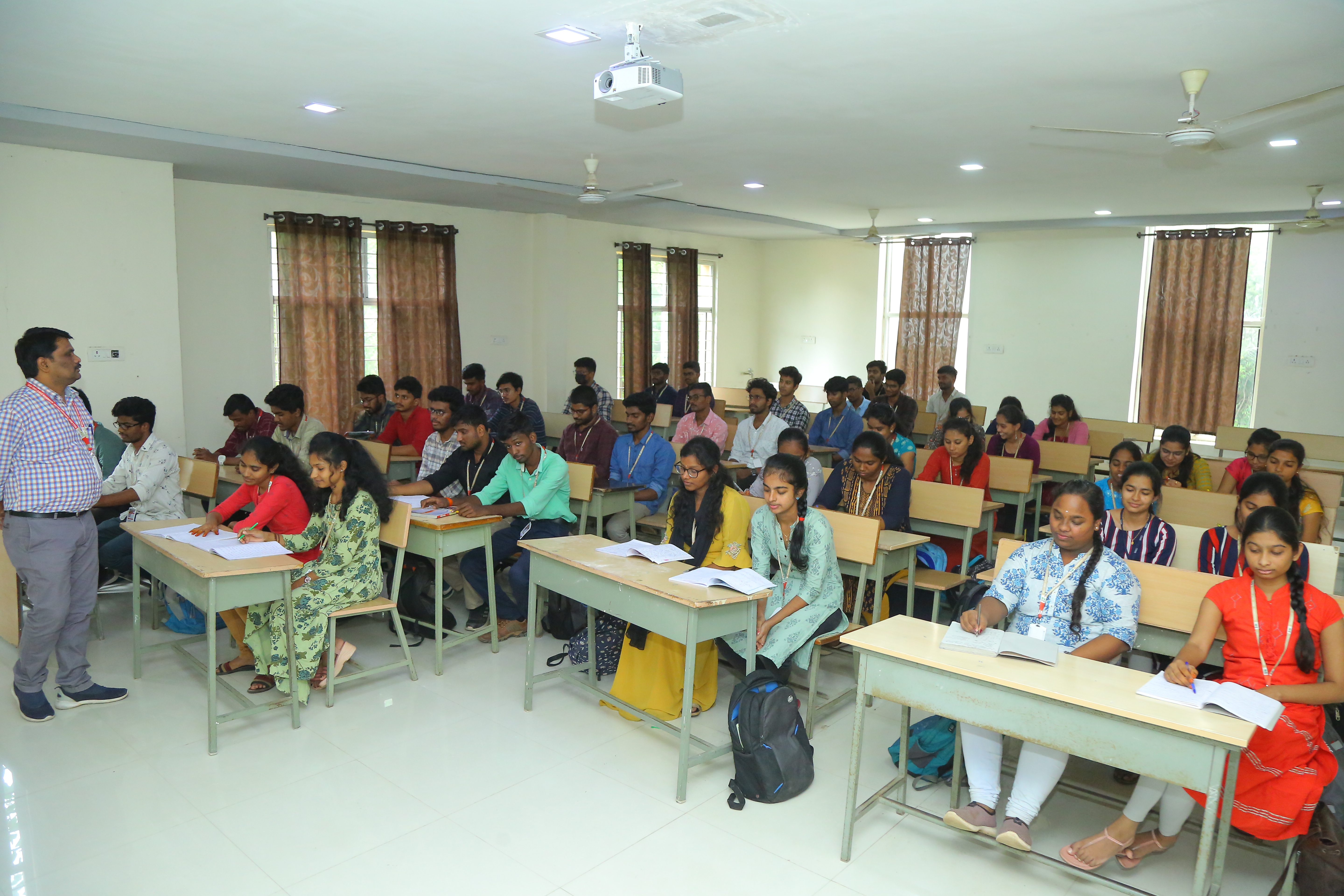 LIBRARY
MREC Synonymous
with the abode of knowledge,
Central Library of MREC
is stocked with around
1.4 Lac of books
and
thousands of
journals to propel the wisdom growth of the students. Library is frequently updated with new books and other useful study material for students from diverse streams.
In our quest to make the Library management immensely convenient for the users, MREC Library provides vital support complementing academic activities to students , researchers and staff. We arrange access to the world of information - whether online, multimedia or in print. In order to effectively capitalize on the opportunities provided by radical changes to technology, pedagogy and research practice, the libraries operate in a number of profound ways and work in partnership with faculty members to enhance student's research skill development, encompassing both information literacy and learning skills. The libraries now do provide effective research and learning environments with a user-focused approach which is the hallmark of MREC library.
RESIDENTIAL FACILITIES
MREC provides accommodation to students wishing to reside in the hostel. MREC has a home away from home for those students who come from various other states and city outskirts providing them the best amenities to make them feel at home.
The students develop a sense of responsibility and learn to manage their life independently staying in hostels.
An external security agency is contracted for providing security at the hostel. The services of the security personnel are monitored by the warden and the assistant warden. The Mess Secretary works in conjunction with the mess staff towards procurement of food items, planning of the menu and maintenance of hygiene in the kitchen and the mess hall.
TRANSPORTATION
MREC situated in Hyderabad is well-connected with the Telangana State capital.
It offers transport facility to its students and faculty members on very nominal charges
. The buses ply on different routes of Hyderabad, Secunderabad and other Near by areas to pick and drop the students.
Our Bus drivers are highly qualified
and are licensed by the RTO to drive college buses to ensure the
full safety of both the students & staff members
.
The students are spared from the difficulty of commuting to MREC by public transport. The transport facility is also a significant contributor of inculcating an element of punctuality among the students. Bus Facility is also available for students & faculty members for industrial visits, field trips and other academic activities .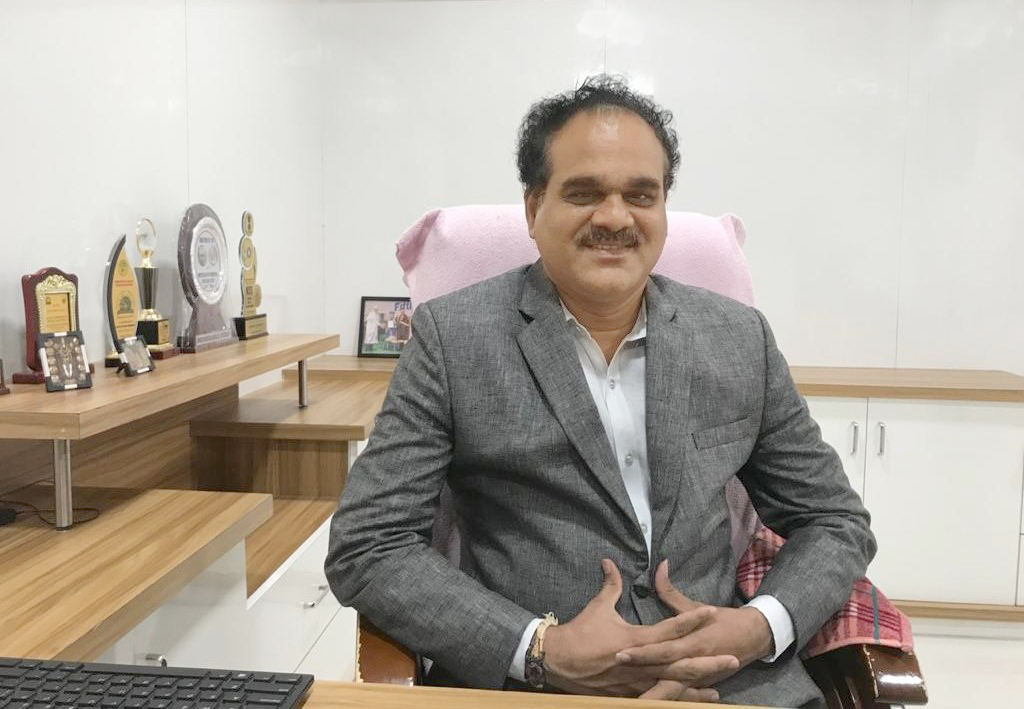 Dr. A. Ramaswami Reddy
Director / Principal MREC (A)
"We at MREC (A) work with a missionary zeal to address the educational and career goals of engineering students. We harness our students' academic abilities to equip them to become industry ready and future ready. We have put in place a multitude of programs such as seminars, workshops, focus groups, student activity centers, effective mentoring mechanisms so as to develop requisite skills and knowledge of our students, thereby catering to changing academic and professional needs. We implement unique and unparalleled academic and administrative initiatives which contribute to the overall development of the student communities."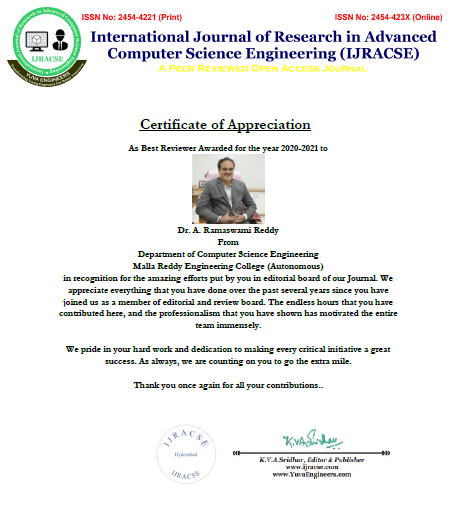 IJRACSE 2020-2021 Best Reviewer Award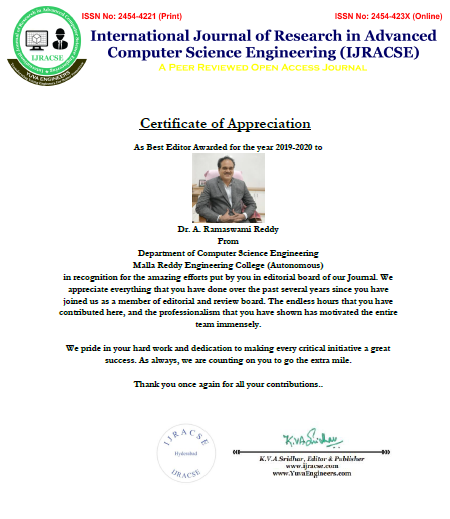 IJRACSE 2019-2020 Best Reviewer Award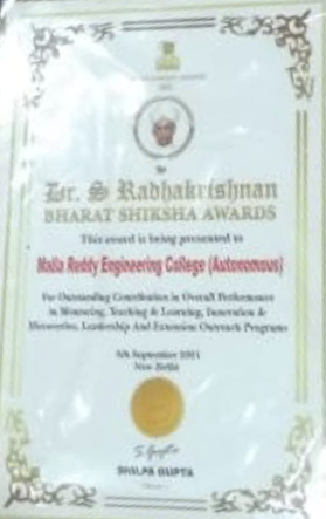 Dr. S Radhakrishnan
Bharat Shiksha Award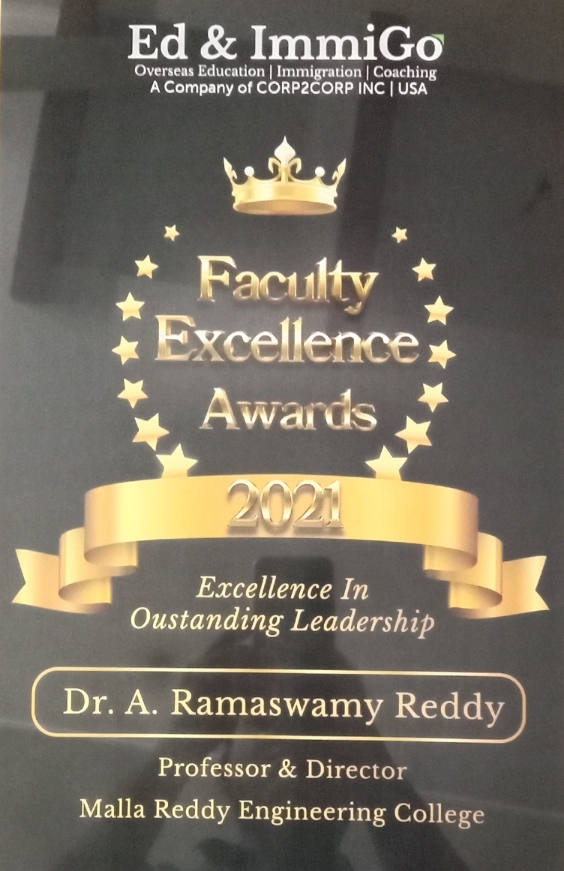 Excellence In
Outstanding Leadership
Institution Highlights
Accredited by NBA and NAAC
250+ Companies for Campus Placement
MoU's with reputed institutions
Best Engineering College in India-South
Top Engineering College in
Hyderabad Metropolitan City
Best Technical Institute for
Employability in South India
Civil Engineering
Department Highlights
The Department of Civil Engineering at MREC has been producing high quality technical manpower needed by industry, R&D organizations, and academic institutions since 2004 with an Intake of 60. The intake has been increased to 120 in the year 2009 and 180 in the year 2014. The Department started offering M.Tech with Structural Engineering specialization in 2010 with an intake of 18, two more courses at P.G level- geotechnical engineering and transportation engineering are being offered from the academic year 2013-2014 with an intake of 24 each. The department was accredited by NBA in the year 2014.
Highly Qualified & Research Oriented Faculty
Industry oriented learning through Technology Groups
Excellent infrastructure & computing facilities
Excellent placement records
Strong Alumni & industry Interaction.
Well defined student mentoring process
Excellent academic results
Strong focus on placement preparation & continuous assessment
Research orientation for both faculty & students.
Focus on programming hands-on
Motivation for Self learning initiatives
Monthly coverage of student articles & department activities through monthly e-magazine 'The Byte'
Well defined teaching-learning process with use of technology based teaching methodologies
Orientation programs for 1st & 2nd yr students
National & International level Engineering activities
Enough opportunities for all round development of students through engineering activities under student chapters and SAC clubs
Strong Alumni & industry Interaction. Our Alumni are working in top MNC's of world like IBM,Microsoft,Facebook,SAP,Oracle etc
Advanced labs for U.G and P.G students.
Additional lab facility available in the department with latest and sophisticated equipment to meet the curriculum requirement.
Departmental Library consists of standard civil journals like ASCE, ICJ, IEEE and Science Direct.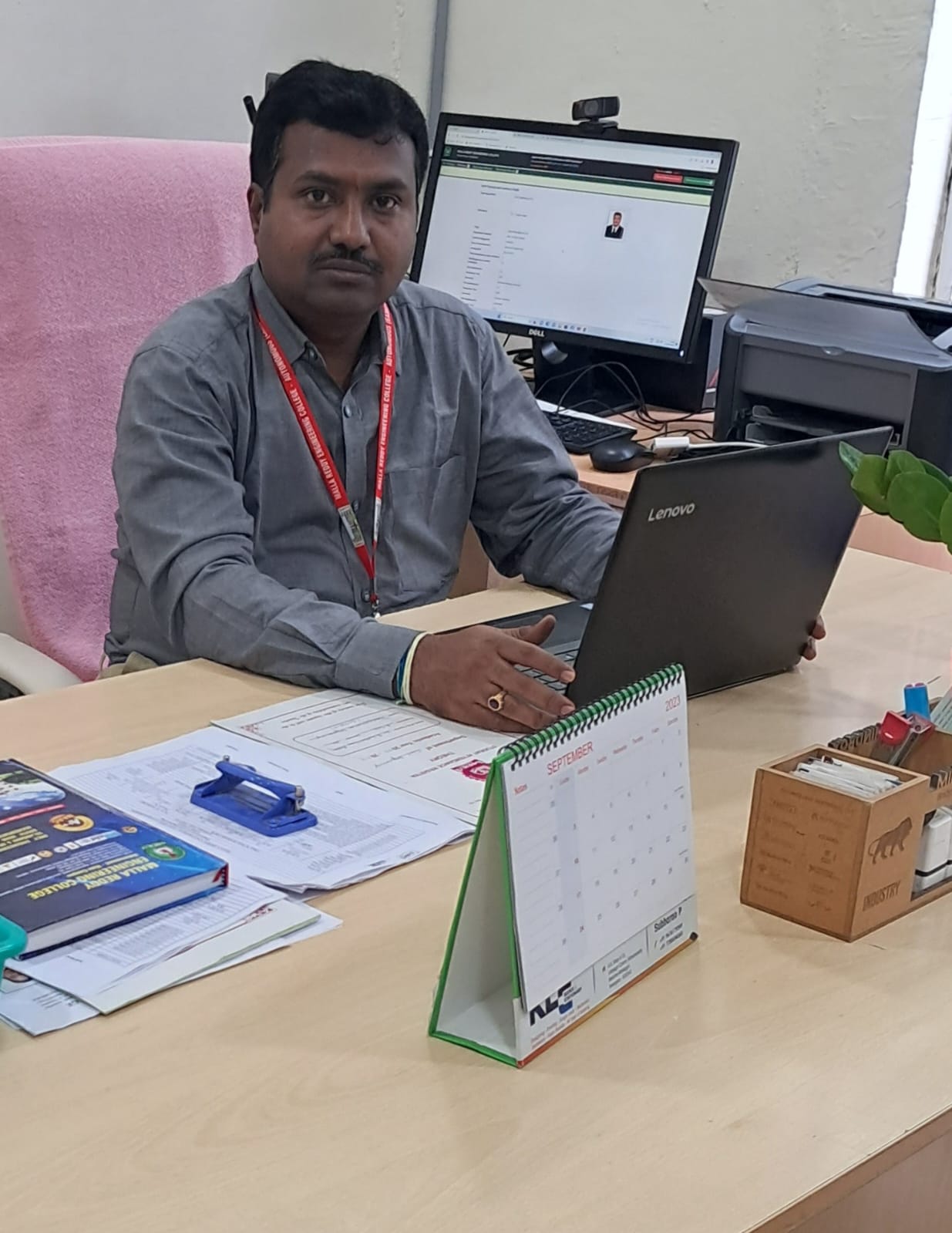 Dr. B. Sudharshan Reddy
(Professor & Head of Department CE)
CEhod@mrec.ac.in
Research
Preparing students to make meaningful contributions to society as
engaged citizens and leaders in a complex world
---
Institute
cross interdisciplinary boundaries
Libraries
hold over 50 Thousand volumes
Growing
annual research budget
---
Solar Desalination

Solar Desalination for nano and micro hierarchical structures
Design of energy consumption of Electric Vehicle

Design of energy consumption of Electric Vehicle
Environmental impacts on soil and water quality

Environmental impacts on soil and water quality with special reference to pharma industry using remote sensing and geographical investigation systems
Four Quadrant Operation of DC motor speed with Microcontroller

Four Quadrant Operation of DC motor speed with Microcontroller
MREC Events
What's Happening on MREC Campus
Dec 22
23_International Conference on Engineering, Science, Technology and Management (ICESTM - 2023)

23_International Conference on Engineering, Science, Technology and Management (ICESTM - 2023)
Nov 21
EEE_Innovation and Entrepreneurship opportunities in Electric vehicles

EEE_Innovation and Entrepreneurship opportunities in Electric vehicles
Nov 11
National Education Day

National Education Day
SAC Activities
Activities of Student Association Council
Literary Club

Graduation Day, Placement Day & Alumina Day was celebrated in MREC on 25.09.2021. SAC ,Literary Club students gave their performances and entertained the audience. Especially the Literary club students hosted the program .
Music Club

Along with the Principal sir, HODs, Faculty member and Hospitality Team Music club members also invited NAAC comity.
Sports Club

Games and sports are an essential component of the curriculum. The college is dedicated to fostering an environment that balances academic, cultural, and sporting activities for the students' total personality development. The Department of Physical Education under SAC is working hard to help students and faculty learn the fundamentals of numerous sports and games and improve their talents to a greater degree of proficiency. Sports and games are now an essential component of MREC's student development programme.
Technical Club

A discussion on Solar storms and their impact on living beings on earth is conducted with the following objectives. • To acquaint the participants with the impact of Solar storms on the living being on earth in general and human beings in particular • To assess the impact of solar storms on the internet and other kinds of communication Around 7 students from I B Tech II semester participated actively in the discussion and shared their views. The faculty coordinator summarized the whole discussion and shared a paper titled 'Solar Superstorms: Planning for an Internet Apocalypse' by Sangeetha Abdu Jyothi of University of California, Irvine for further investigation by the students.
Dance Club

On 17-11-2021, Orientation Day is going to be held for the First year students of all branches of MREC(A). For that day, some cultural events are performed.
Social Service Club

As a part of SAC-Social Service we organized vaccination drive. As a part of this programme vaccination for covid was given to all faculty and students those who are eligible. This vaccination drive was very useful for the faculty as well as students. The faculty and student coordinators encouraged the student and faculty to participate in the drive.
Fine Arts Club

Fine arts club decoration For 18th Graduation,placement & Alumni Day on 1-7-2023, the stage and entrance were colourfully decorated with a variety of floral arrangements and hangings in various colour schemes.It will capture the attention of the audience, energising the space and establishing the ideal mood.
Cultural Events at MREC(A)

The Management, staff and students of Malla Reddy Engineering College (Autonomous) celebrated "Graduation day/Allumini day/Placement day" in the college premises on 6th March 2021.Director of MREC Autonomous Dr.A.Ramaswamy Reddy Sir congratulates all Graduates,Encaraged Allumini students and who placed the students in various software companies. Celebrations Started with prayer song,Lightening lamp,Classical Dance and so many programs full entertainment all enjoyed the event and all are actively participated to be part of the event Grand success.Guest of honor and founder Chairman Sri.Ch.Malla Reddy Garu address the gathering to all parents,staff and students. Smt Shalini Madam director of MRGI and Dr. A. Ramaswamy Reddy Sir facilitated parents with student who got placed in software companies,all participated actively the event is grand Sucess.
Campus Life
A thriving community of creative and accomplished people from around the world
Student Life

A residential campus with diverse housing, exceptional dining, health care and over 600 student organizations
Arts & Culture

A rich tradition of fostering creativity and a vibrant arts district on campus
Arts & Culture

A rich tradition of fostering creativity and a vibrant arts district on campus
Student Alumni
A Successful MREC Student Alumni community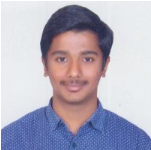 SK.SHAHI MUNIVARSHA
★★★★★
"I am very happy and lucky enough to be a student of Malla Reddy Engineering College. The curriculum activities of MREC are very well organized and I like the practical approach of the courses because they have changed my learning methods beyond my imagination. Trainers use their real-life examples in their teaching and they are very cooperative. MREC is great at infrastructure as well as its learning environment. It focuses mainly on the development of students both in academics as well as co curriculum. Being a Civil Engineering Department student I had full support of faculties which is the best thing about the College. Lab facilities are good. Students welfare is the topmost priority."
B.Tech (Civil) , 2018-2022
Placed In : BYJUS 10LPA

BOBBALA SRINIVAS REDDY
★★★★★
"It was a great experience studying at Malla Reddy Engineering College, a memory to cherish for lifetime. My experience at MREC was full of learning and grooming. It gave me an opportunity to meet different kind of people from around the world and learnt many things from them. I was glad to be a part of CIVIL ENGINEERING branch of MREC. The Faculties are very helpful and are very concerned for their students as they try to help whenever any students are facing problems. Overall it was a great experience and lifetime memory at MREC. If you want to make a career in Civil Engineering I would highly recommend you to join MREC."
B.Tech (Civil) , 2018-2022
Placed In : COGNIZANT 6.7LPA
C.Bhavya Sindhu
★★★★★
"It was my immense luck and fortune to be the part of Malla Reddy Engineering College where I can grow. The mentors at MREC helped us enhance my academic and interpersonal skills. My four years at MREC have been a wonderful experience of learning with prolific exposure to outside. Huge respect, love and devotion for entire faculty members and department. It's their efforts that make me to count myself into better professionals. You get a lot of opportunities and The T & P cell is very supportive and they have conducted various sessions which helped me to get placed.Overall it was a great experience at MREC."
B.Tech (Civil) , 2018-2022
Placed In : ZELFSTUDIE PVT LTD 6LPA

Suravarapu Harika
★★★★★
"Malla Reddy Engineering College is great place to learn. Talking about my department which is Civil, the best teachers are there to teach us the valuable lessons for our future as well as for our career. My bachelor degree at MREC in Civil Engineering consisted of many projects based on evaluation and faculty connect. The relationship between faculities and student is very cordial, which gave me an opportunity to excel in my area of interest. The regular interaction with the Placement team also encouraged me to excel in my interview and developing skills that are required for future use."
B.Tech (Civil) , 2018-2022
Placed In : ZELFSTUDIE PVT LTD 6LPA