Department Details
Civil department labs
| Name of the Programme | Approved Intake |
| --- | --- |
| B.Tech (Civil Engineering) | 60 |
| M.Tech (Structural Engineering) | 30 |
The Department of Civil Engineering at MREC has been producing high quality technical manpower needed by industry, R&D organizations, and academic institutions since 2004 with an Intake of 60. The intake has been increased to 120 in the year 2009 and 180 in the year 2014. The Department started offering M.Tech with Structural Engineering specialization in 2010 with an intake of 18, two more courses at P.G level- geotechnical engineering and transportation engineering are being offered from the academic year 2013-2014 with an intake of 24 each. The department was accredited by NBA in the year 2014.

Under academic activity, more emphasis is bestowed on deep comprehension and understanding of fundamental principles of each subject in all cognitive teaching learning methodologies. The department has full-fledged survey laboratory, Autocad laboratory, strength of materials laboratory, fluid mechanics and hydraulic machinery laboratory, geotechnical laboratory, concrete technology and highway laboratory, environmental engineering laboratory, transportation engineering laboratory, ELCS laboratory.

Many of our students are placed in reputed companies like GMR, L&T, Aparna infrastructures, NCC, Navayuga, GVK, Lanco Infratech limited, IVRCL infrastructures & projects ltd, Indian army, Indian navy and many more. The academic activities of the department emphasize deep understanding of fundamental principles, development of creative ability to handle the challenge of civil engineering, and the analytical ability to solve problems which are interdisciplinary in nature. The department is actively involved in basic and applied research and consultancy.

Department also provides technical guidelines for the benefits of students and entrepreneurs by organizing short-term courses, certificate oriented training programs like auto-cad, stadd.pro, and primavera e.t.c under finishing school concept, seminars, academic/industrial guest lectures, national level workshops, national and international conferences under TEQIP-II.

Department is equipped with number of post doctorates in various specializations like (structures, transportation, geotechnical, construction management, geographic information systems, environmental engineering, geology) and others are in procession. departmental staff was associated with various professional societies like IIE, ICI, IAStructE, ISTE, IRED, IEEE e.t.c. Department is holding up with two minor research projects under UGC of worth Rs: 4,90,000/-. Staffs are trained in various faculty development programs and always motivated to be a centre of excellence in teaching field.

Department is generous in giving auxiliary assistance to students in a practical way by having MoU's with various reputed institutes, consultancies and NGO's. The department has life time membership with professional societies like IGS, ICE, and ISTE e.t.c. Under these auspicious professional societies, department organizes expert lectures, group discussions, competitions and other activities for the all-round development of the civil engineering students. department is encouraging students, to participate in college activities like "AKSHARA" National level fest, "VISHESH" Innovation Day, Sports, NCC, Blood Donation and Co-curriculum activities.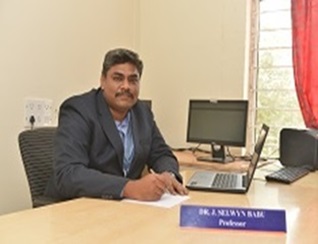 Dr. J. Selwyn Babu
(Professor & Head of Department CE)
CEhod@mrec.ac.in